Directions
The Abbazia Santa Anastasia is located in Sicily, in the territory of Castelbuono, in the Madonie Park, in the province of Palermo.
The estate covers 400 hectares on hilly land at an altitude between 200 and 500 meters above sea level, a few kilometers from Cefalù.
Every stone in the Abbazia Santa Anastasia speaks of history, which began with the production of wines as early as the 12th century, thanks to the legacy of the Benedictine monks.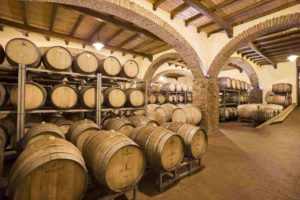 The objective of the Santa Anastasia Abbey is to express the uniqueness of its territory in the best possible way. Wines are produced offering sensory and emotional experiences of hospitality.
The vineyards of the Abbey of Santa Anastasia: ventilated hills for autochthonous and international grapes
The vineyards cover 65 hectares of hilly terrain ventilated by the breeze of the Mediterranean sea. This guarantees excellent pedoclimatic conditions for the production of quality wines.
Native and international grapes are grown on 65 hectares on hills at an altitude varying from 200 to 500 meters above sea level. The soil tending to clay is excellent for the choice of organic cultivation.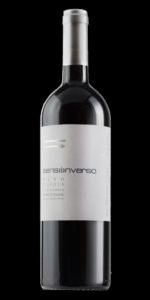 In fact the cultivation of the lands takes place according to strict principles respecting the ecosystem. The biodynamic doctrine, modern technologies and the teachings of Giacomo Tachis and Riccardo Cotarella coexist to facilitate the growth of vines and olive trees without the use of chemicals. In this way, results are obtained that tell and enhance the excellence of the territory.
Sustainability of the territory's ecosystem: concrete attention
The Santa Anastasia Abbey has always been particularly attentive to the protection of the territory. The energy used is produced for more than 80% by its photovoltaic systems and the remainder comes from renewable sources.
The ecosystem where we live is also helped in this way by respecting nature.
To let everyone know about this at the Santa Anastasia Abbey organizes meetings for tastings, courses and small exclusive events.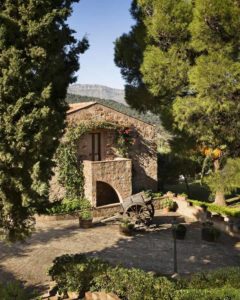 Hospitality, not just the production of quality wines
The estate of over 400 hectares, of which 65 are dedicated to vineyards, has allowed the creation of a relay for guests who want to enjoy these wonderful places.
The relais of 28 rooms obtained from the conservative restoration of the ancient Abbey built Ruggero d'Altavilla.
The Relais welcomes its guests pampering them with two restaurants, ample spaces equipped for conventions and meetings, a futuristic gym, swimming pool, billiard room and bar. The Relais is surrounded by over 400 hectares of pure nature with trekking routes ideal for both sports enthusiasts and professionals.