Directions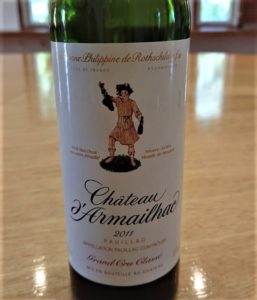 The winery is the history of France.
It was part of the vast heritage of the lordship of Lafite in the 18th century, Château Clerc Milon was later sold as a "national asset" in 1789 during the French Revolution.
Later the Clerc family acquired it and the name was that of the Pauillac hamlet of Milon, where it was located.
In the marvelous area of the Bordeaux area, overlooking the Bay of Biscay, the Château d'Armailhac Grand Cru Classé 2011 is produced, in Pauillac, by the Château Clerc Milon winery, Pauillac, France.
Cabernet Sauvignon, Merlot, Cabernet Franc, Petit Verdot for a special blend
This great red wine comes from a blend of Cabernet Sauvignon, Merlot, Cabernet Franc and Petit Verdot vines.
The color is a deep and dark ruby. On the nose the aromas reveal aromas of fruit, particularly blackberry and cherry, combined with toasted notes. The fruity taste reveals a structure of great interest with silky and creamy tannins. The long finish lingers on slightly oak flavors.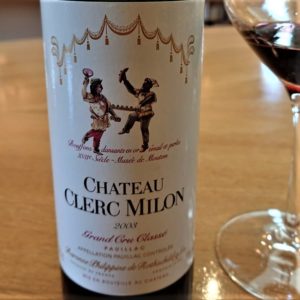 Culture, Art, Territory from the Château Clerc Milon winery
Château Clerc Milon produces this wonderful Grand Cru Classé 2008, Pauillac, thanks to the blend of cabernet sauvignon, merlot, cabernet franc, petit verdot, Carmenère.
The color is garnet red crystal with pleasant violet reflections. The scent is fresh and elegant with hints of ripe cherry that anticipate the subtle notes of licorice and toasted bread that complete a rich and complex bouquet.
At the tasting it is refined with elegant tannins and a marvel of crunchy red fruit, dark chocolate and dried flowers. The elegant label depicts the dancing buffoons of the 17th century (Musèe Mouton, France).